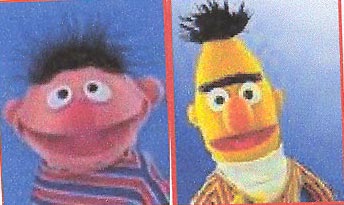 Ernie and Bert are two roommates that lived together in the basement of an apartment called 123 Sesame Street.
According to Muppet Wiki, "Ernie wears a horizontal red-and-blue sweater and red sneakers. He is light-hearted, playful and likes to play tricks on his best old buddy, Bert. He likes to take baths with his favorite toy, Rubber Duckie. His famous song is Rubber Duckie. Sometimes at night, he imagines what it's like to live on the moon and to visit the zoo. His favorite foods include cookies and ice cream. He has a distinctive, chuckling laugh.
Bert wears a vertical blue-and-green shirt, argyle socks and brown shoes. Unlike Ernie, he is very serious and responsible. He has one long eyebrow and is often grumpy or angry. He likes to collect paper clips and bottle caps from Figgy Fizz sodas. He likes to feed pigeons, especially his pet pigeon, Bernice. His other interests include brass bands, the letter W and the number 6. He has a distinctive, bleating laugh."
Ernie's Main Performers:
Jim Henson (1969-1990)
Steve Whitmire (1993-2014)
Billy Barkhurst (2014-2017)
Peter Linz (2017-present)
Ernie's Alternate Performer:
John Tartagila (2003)
Bert's Performers:
Frank Oz (1969-present)
Eric Jacobson (2000-present)